2005 Sierra 2500 HD
Now this is a Truck!!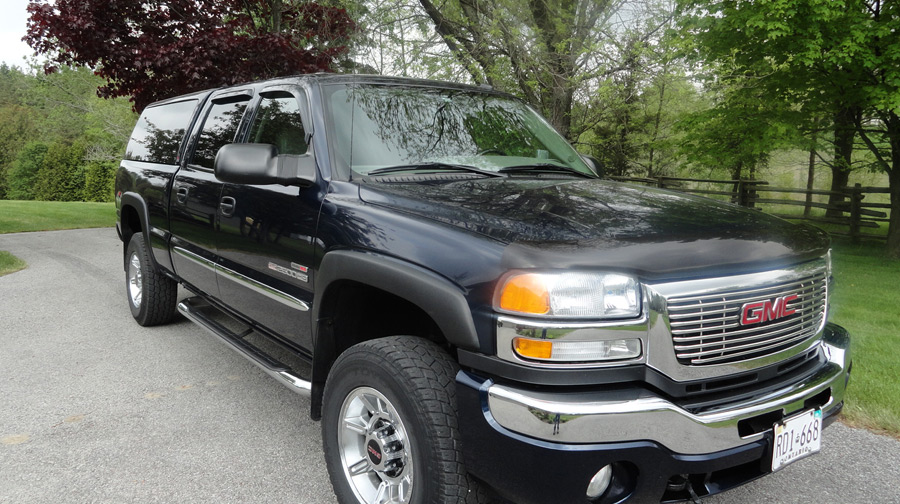 My 2002 Sierra just wasn't cutting it when it came to hauling around my TA & trailer - so I had think about up grading to something with more towing capacity.

In Aug/05 I was at a classic car show in Orillia Ontario that happened to take in the location of the Pontiac/GMC dealer where I had purchased my Trans Am new in 1978 - they had this one on the lot. It is equipped exactly the way I wanted it - including trailer towing package and electric extending mirrors. I've added the grill, headlights, step bars and ARE tonneau cover. The colour was exactly what I wanted too - every other one I looked at was pewter or black. It's a crew cab with the SLT trim package
Another bonus on the power train - it's equipped with the Duromax turbocharged & inter-cooled diesel and Allison 5 speed automatic, now that's HD! I've named him "Vinny" (short for Vin Diesel). The only things I didn't like about the truck was the wimpy factory wheels & tires, and the exhaust - they had to go! The wheel solution comes from GM - the Hummer H2 chrome ones, the exhaust is Magnaflow 4" duals.
It's main purpose is towing a 30' trailer with a track car and rather large 'pit bike'. 2018 and it's still like new.
The Duramax doesn't lack in performance with 310 hp and 605 lb-ft of torque from the factory, but 20 minutes of installation time adds another 120 hp and 275 lb-ft of torque with the Edge Juice/Attitude. http://www.edgeproducts.com
The Edge controller mounts on the corner of the dash by the A pillar. It allows you to choose from 5 power levels, 5 levels of low boost response, maximum limits and alarms for exhaust gas temperature and boost, de-fuelling for transmission gear shifts, mph based on tire diameter etc, plus will display up to 4 readings at a time (from a menu of about 12 items), plus your current power level selection, which you can change on the fly. Wow - a long way from changing carb jets and playing with timing to try and get the most out of you engine!

Hang on Nipper!
And now for the biggest surprise of this whole truck trading experience ...... when I went to pick it up Brad McClocklin (my Sales Rep) had placed this framed picture of the dealership's 1978 sales record for my TA on the seat!

I want to thank Orillia Pontiac and Brad McClocklin for making the purchase of this truck a pleasant experience, and going the extra mile to dig out the info on the original purchase of my 78 TA, I highly recommend them as a place for your automotive business. www.orilliapontiac.com