Tenth Anniversary Trans Am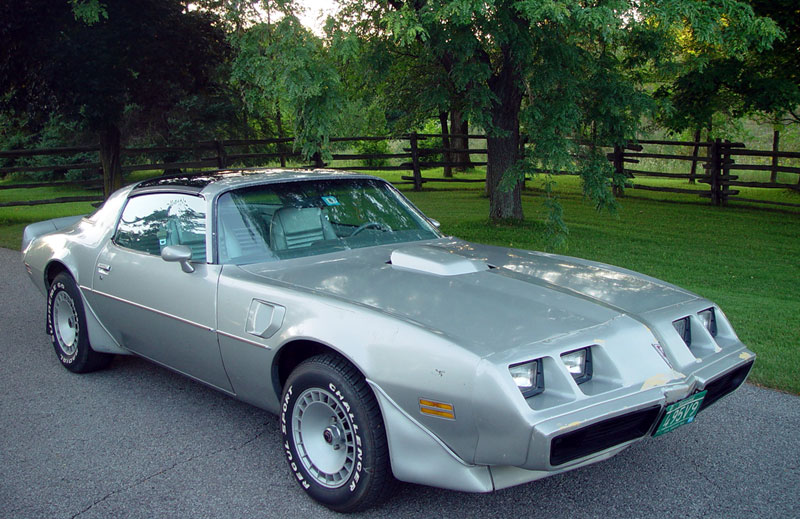 I first heard about this car while on vacation in Maine in the summer of 1999. It had been in storage in a barn close to the Vermont/New Hampshire border since 1994 and the owner was considering selling it as she had moved to Arizona. I stopped in to see it on my way home and found it sitting under a thick layer of dust, a bit bruised up but still a very solid car. It's 1 of 1817 Tenth Anniversary TAs built with the 400 motor and 4 speed transmission in 1979.
I struck a deal with Monica, the owner of the TATA since March of 1986, shown here with the car shortly after she bought it. She kept it out of the snow and rain but had a "little incident" with the parking brake not holding one morning resulting in a bruised tree in her driveway, and the TATA getting an all silver paint job when the nose and hood were repaired.

In October of 1999 I returned with a new battery and some fresh gas, it started right away and I was able to drive it onto my trailer. Saw some great fall colors and joined the other tourists on a bumpy ride across Lake Champlain from Vermont to New York.
At home - with the dust washed off - it actually cleaned up pretty good! Bonus, the car came with it's original paperwork right back to the day it was sold new to Terry A. Pierce of Wenham New Hampshire on June 22, 1979 by Marshall Pontiac on Rte 1 in Saugus MA
It's now been 25 years since it was last on the road - restoration pictures to follow.
The restoration begins
The drivers side floor had rusted out from the inside, most likely from leaking T-tops and moisture under the carpet, the passenger side also had some small rust holes. A trip was in order to Kerr Auto Body in Orillia Ontario, Guy Kerr soon had the rusty parts removed and new floors installed, sealed and covered with epoxy primer. I took the car home to continue working on it. Next up was to wire brush the entire bottom of the car clean and coat the frame rails and suspension with Zero Rust
The interior has been completely removed and is being refurbished including new TATA seat covers, carpets and headliner.
All exterior parts that could be removed were off to the body shop
2011
In 2011 the rad support and inner fenders are finished and reinstalled, the motor was treated with engine conditioner to try to clean up some sticky rings and noisy lifters. A short from the main starter cable to the engine block put an unexpected early end to the engine treatment and resulted in ordering some new wiring from the battery to the starter - on hold again.
2013
The motor is running and the car ready to be transported to the body shop for reassembly. At the last moment, after loading it on the trailer I got the word the body shop is full and it would be better to wait until next winter. At least the car has seen some day light again!
2015
Moved to it's new home with a lot bigger garage, finally have everything organized and in one place!

2017
I came across a new cat back factory exhaust system and 4 perfectly refinished TATA turbine rims at the Trans Am Nationals
2018
Time to pull the motor and transmission to get them rebuilt, and clean up the engine compartment while their out.
.......to be continued!
What it will look like again......someday!
Back to Home Page