1967 Impala SS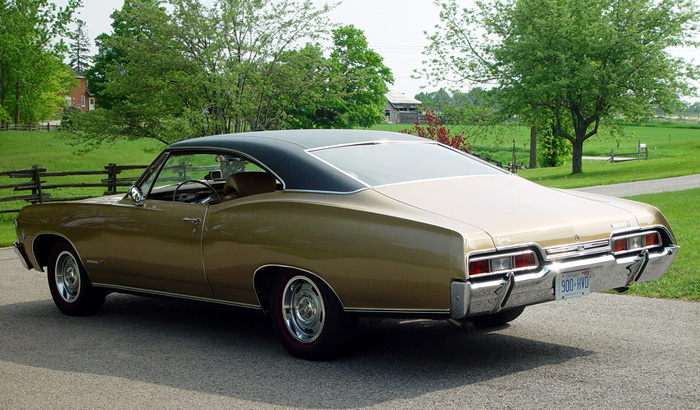 A True Survivor!
This car was built the 3rd week of December 1966 in Los Angeles California, the 327 275 hp motor was built in the Tonawanda New York engine plant on Dec 16, 1966. On January 12, 1967 it was delivered to Chris Kleingartner of Springfield Oregon by Garanty Chevrolet Co. of Junction City Oregon. The Protecto-Plate and manuals are still in the car.
Update April 2008!! Chris Kleingartner contacted me by e-mail after a friend spotted the Impala info on this website, he was kind enough to send the picture below, it was taken when he first bought the car in 1967. He also sent me pictures of his 2 previous cars, a 63 Impala SS 327/4 speed and a 55 Olds, looks like he's always had good taste in cars.....and companions! :)
It spent it's first 30 years in Oregon and was then purchased by Duffy's Collectible Cars of Cedar Rapids Iowa. They documented the authenticity of the car and on August 29, 1997 sold it to Larry Doeppenschmidt who had the car shipped to New Braunfels Texas, where it remained until it was imported into Canada in 2002. It's really nicely equipped as described in Duffy's documentation below, although they missed a couple of the obvious factory options on it, the front disk brakes which were offered for the first time in 1967, and the optional headrests on the front seats, which are pretty rare. Now 42 years old, everything still works (even the clock) and the car runs like a new one!!
The car has had 1 repaint in 1996 in the original colour but with clear coat this time.
It was originally ordered with good performance in mind, 327 4 bbl motor, Turbo 400 transmission and 3.55 12 bolt rear end. The engine compartment is spotless, there are no oil or fluid leaks anywhere on the car.
Except for the carpet the interior is still completely original and in like new condition. The radio was changed out to an aftermarket AM/FM/Cassette type in the 80's but everything else is as it left the factory.
New 2.5" stainless steel exhaust system with X pipe, it's got a nice rumble but barely audible in the car when cruising.
The trunk is HUGE!

New in the last few years before the "Great Adventure" described below, 4 BF Goodrich Silvertown redline radial tires (225/70-15), 4 new KYB Gas-Adjust shocks, new water pump and heater core, new 2.5" dual exhaust with X pipe crossover (all stainless steel), R134 A/C recharge.
In 2007 this car participated in the Hot Rod Power Tour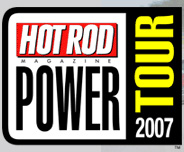 June 2007 and the car has a new name - Beulah! This nick name was bestowed by our friends Chris and Tammy Ritter from Little Rock Arkansas who completed the tour with us in their 1974 Super Duty 455 Trans Am.

Beulah now wears this 'Badge of Merit' for completing the "Long Haul" , which means running the complete Power Tour from one end to the other. The trip was 3326 miles in total as we had to travel 400 miles to the starting point and 1300 miles home from the finish.

The route: Cleveland OH, Kalamazoo MI, Racine WI, Springfield IL, Evansville IN, Memphis TN, & Little Rock AR.
7 cities in 7 states in 7 days
Beulah ran flawlessly - some times at a good rate of speed - like when she was hanging with these "Shoeboxes"


(Photo courtesy of C Ritter, Arkansas Pontiac Association)
Update - April 2009
Beulah is riding the rails to her new home in Burnaby BC, seen here at Hansen's Forwarding terminal in Toronto

Update - May 5 2009
Beulah has arrived at Hansens Terminal in Burnaby BC where they stored her inside until pickup

Beulah's new owner - Dino Altoe - seems to be enjoying the ride!!

First day at home Beulah finds out she has to share the garage with a younger brother, who soon shares some of his sneakers with her!
She passed her physical with flying colours and is ready for some site seeing.
Some updated photos from Dino in 2016
Back to Home Page