1965 Corvair Corsa Convertible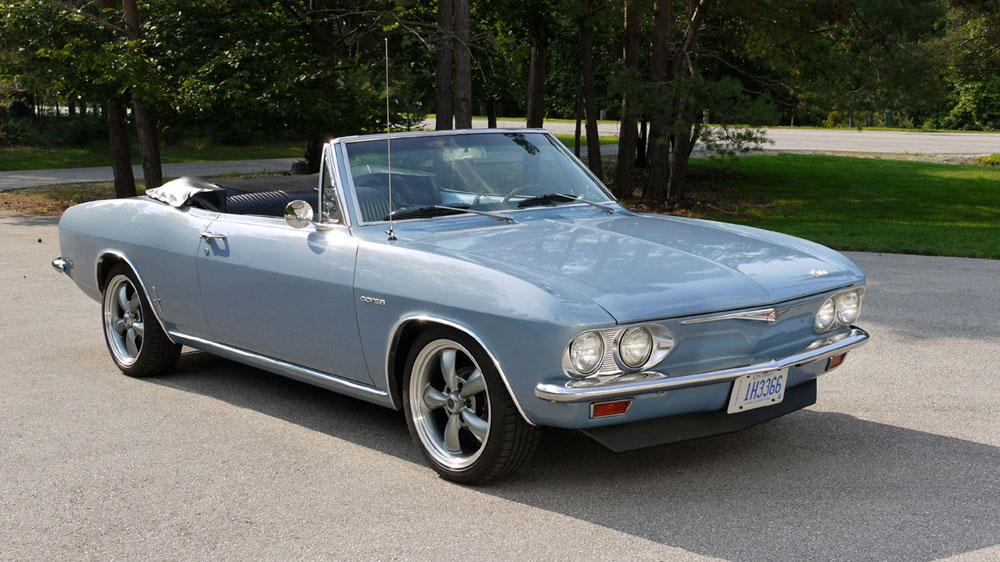 My first car was a 65 Corvair Corsa so this was inevitable!
It's a California car imported into Canada in 2008 by a Corvair enthusiast who completely rebuilt the suspension and powertrain. The paint and interior are unchanged from 2008. I upgraded the wheels to 17" Torq Thrust M aluminum rims with Michelin Sport tires.
This is a factory turbocharged 4 speed car which was the top power train option in 1965. For safety and reliability the brakes have been upgraded from single to dual master cylinder and the ignition is now electronic with a Safeguard ignition box that uses individual cylinder knock detection to control the timing. The original draw through Carter YH carburetor (chosen to control turbo boost to 10 psi) has been replaced with 2 modified Rochester HV blow through carbs. A Turbonetics adjustable waste gate now controls boost, a 200 psi Cooling Mist alcohol/water injection system prevents detonation under boost.
The exhaust and turbo have been ceramic coated while a deeper oil pan and finned rocker covers help with the cooling.
Some photos of the power train while it was removed for a clutch change.
Ironically, I purchased this car from the person who still owns my last Corvair - which you can see here.