1960 Pontiac Catalina Tudor Sports Coupe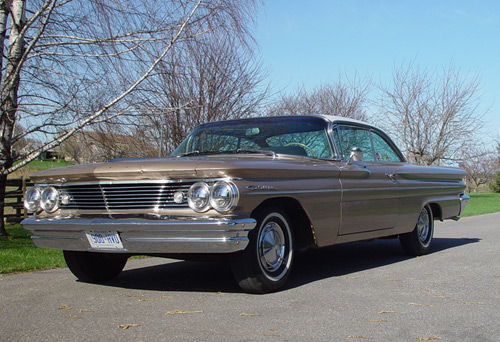 In Dec 2001 I received an e-mail post on a Pontiac forum about a 1960 Pontiac Catalina Tudor Sport Coupe that was for sale. I contacted the seller who sent me these photos, the car had original paint, interior and power train, and was originally from Texas - I was intrigued.
As it turned out the car was already in Ontario and only 3 hours away, I made arrangements with it's owner, Todd St Clair, to see it the next day. The car exceeded my expectations for originality, plus Todd had acquired some rare original and aftermarket parts that were included. Two sets of correct Pontiac hubcaps, a full set of service manuals, a tri-power intake manifold and a set of new period correct Hedman 4 into 2 into 1 headers with dump tubes for the 389 motor.
The deal was done and Todd agreed to store the car for me until spring has snow had already arrived. In April I picked the car up and on the way home stopped at the annual spring Collector Car Auction in Toronto and had 3 different people approach me in the parking lot expressing an interest in the car

Once home I delved into the history of the car, Todd has lots of documentation including the original title to the car.

Conceived in Kansas, delivered in Louisiana and residing in Texas from the age of one, life's journey has taken this car just over 58,000 miles to date. Todd had spoken with the original owner of the car, he was an employee of GM and also had a company car so this one had low miles, mostly driven by his wife.
It has original paint and interior, and the original high compression 389 V8 and Super Hydramatic 4 speed automatic. This was the base power train for American Pontiacs, the ones sold in Canada were built on a Chevy chassis and came with 6 cylinder motors and 2 speed Powerglide transmissions. The American Pontiacs were also bigger cars with a 3" longer wheelbase and 5" wider track.
It had some cool time period stickers on both rear windows too.
I soon had plans to make a nostalgic drag racer out of it, but decided it was really too mint for that. Bob McLean from British Columbia was looking for a nice 60 Catalina similar to the one he owned in 1960, he really liked this one so it now resides on the west coast of Canada. The last time I saw the car and Bob was at the rail terminal in Toronto where it was being loaded on a train for Vancouver

I had the headers ceramic coated and sold them to Kenneth Davis at the Pontiac Nationals for his Hot Chief #1 nostalgic drag car
In 2007 the Catalina reappeared - Bob had sold the car to a new owner who modified with air ride suspension, 20" Torque Thrust II wheels, disk brakes, new paint and custom interior. The engine compartment confirmed it was definitely the same car but it now sported dual carbs on the 389 motor.
Fast forward to 2016 and Bob McLean once again owns the car. Since the first conversion to a "restomod' it has been refined by the next owner, Rick Ashton, here are the details

Bob re-acquired the car from Rick and sent me these photos.